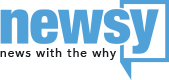 TheDenverChannel.com
National News Partner
Why One County Has Avoided Drinking Its Water For 18 Years
Nina McCoy has lived in Inez, Kentucky, for decades. The former teacher once taught many of the students, now grown, whom she's now fighting against. These adults now make up the county's water board, who in part, McCoy says, misspent funds that could've helped with the ongoing water crisis. We asked Nina what happened all those years ago and what the future holds for her tiny town.
SEE MORE: Some In This Small Kentucky County Live Without Running Water
Get a deeper understanding of the stories that matter with Newsy's "The Why," weekdays 7-9 p.m. ET.
---
Trending stories at Newsy.com