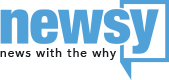 TheDenverChannel.com
National News Partner
Protesters Smash Windows And Limo At Trump Inauguration
These protesters got violent during Donald Trump's inauguration.
Thousands of peaceful protesters were at the inaguration.
SEE MORE: Here's What D.C.'s Inauguration Security Looks Like On The Ground
But protesters, some of whom held anti-capitalist and anti-fascist signs, smashed windows and damaged property in Washington, D.C.
They never got inside the perimeter of the inauguration.
Police sprayed and arrested them.
---
Trending stories at Newsy.com