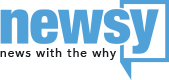 TheDenverChannel.com
National News Partner
Hurricane Irma Officially Arrives In Florida
Hurricane Irma officially made landfall in the Florida Keys on Sunday morning as a Category 4 storm.
The Florida Division of Emergency Management estimates 6.3 million Florida residents have been told to evacuate. As of Sunday morning, more than 320 shelters were open for those evacuees.
With heavy rain and winds up to 130 mph, Irma is already wreaking havoc in Florida. Hundreds of thousands of households are without power, and much of the state is also under a tornado watch.
SEE MORE: The Government Waived An Old Law To Avoid A Hurricane Gas Shortage
The storm's eye should travel up the west coast of Florida on Sunday.
Forecasters expect Irma will hit the Florida panhandle on Monday afternoon, moving inland from there.
---
Trending stories at Newsy.com