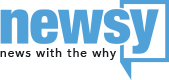 TheDenverChannel.com
National News Partner
Debriefing 'Revolt': How We Filmed Mountaintop Removal
Researchers say mountaintop removal sites are pushing toxic material into water and air for surrounding communities in West Virginia. But to see one of these sites up close, you have to get a little creative.
SEE MORE: Revolt: Coal River Mountain
In this debrief after the second episode of Newsy's series "Revolt," reporter Zach Toombs and videographer Kevin Clancy talk about how they captured scenes of mountaintop removal from the ground and air.
---
Trending stories at Newsy.com