DENVER — Colorado's Front Range is in the midst of a "bomb cyclone" blizzard, dumping several inches of snow and causing major disruptions to travel and power. Up to 18 inches of snow is expected to fall in parts before the storm moves out.
Colorado is no stranger to snowstorms. Wednesday's blizzard, while considered one of the most powerful to hit the state in years, pales in comparison to some of the worst storms to hit the Denver area.
Here are the 10 worst snowstorms in Denver, according to the National Weather Service:

Dec 1-5, 1913: 45.7 inches of snow
Mar 17-19, 2003: 31.8 inches of snow
Nov 2-4, 1946: 30.4 inches of snow
Dec 24, 1982: 23.8 inches of snow
Apr 23, 1885: 23 inches of snow
Oct 20-23, 1906: 22.7 inches of snow
Oct 24-25, 1997: 21.9 inches of snow
Nov 26-27, 1983: 21.5 inches of snow
Dec 20-21, 2006: 20.7 inches of snow
Jan 29-31, 1883: 19.3 inches of snow
In December of 1913, the Denver area was walloped with several days of snowfall. After everything was said and done, the city was buried in 45.7 inches of snow. It was the largest amount of snowfall from a single storm in Denver, according to records obtained from the National Weather Service.
Pictures of the event, courtesy of the Denver Library's digital archive, showed buried cable cars, roads and sidewalks. The storm essentially shuttered the city for days.
But not everyone was having a miserable time. Denver children were seen in photos sledding down the steep streets of Capitol Hill.
"Turning Eighth Avenue, below, into a snow run for sledders and a reminder for us that monstrous snowstorms are nothing new in Denver," read the photo's caption.
Here are photos of the 1913 snow event, courtesy of the Denver Library:
A man stands under a "Car Stop Here" sign across Seventeenth (17th) Street from the Brown Palace Hotel, Denver, Colorado. Street Car J with a sweeper brush on the front makes its way along the street piled with snow and ice chunks. The Drexel and the Colorado hotels show in distance.
Few tracks are visible in the deep snow that covers 17th (Seventeenth) Avenue, Denver, Colorado. Down a hill, the Savoy Hotel and a pedestrian can be seen.
Men haul snow from the downtown area, in horse drawn wagons, along Sixteenth Street towards Broadway Avenue to dump in Civic Center, Denver, Colorado. Business signs include: "The [Y]ee Foo Lun, C.H.D. Chinese Herb Institute, Have Cured Thousands, Why Not You?" "Elite Photo Studio" "Photo Supplies" "Haines Hair Store" "Kodak Supplies" and "Capitol Cap Factory."
People walk through snow-packed streets at Sixteenth (16th) and Welton during the great snowstorm of 1913 in Denver, Colorado. Shows a Denver City Tramway trolley car. A sign on a building reads, "For Rent, Store Room."
View of signs stuck in a snow pile from the 1913 blizzard in Denver, Colorado. Signs read, "This pile of snow free to day help yourself plenty in stock" "Keep Off the Grass" "It's a Privilige [sic] To Live in Colorado."
View of a shoveled path along a sidewalk on Clarkson Street after the snowstorm of 1913. Shows snow covered houses, lawns, trees and street.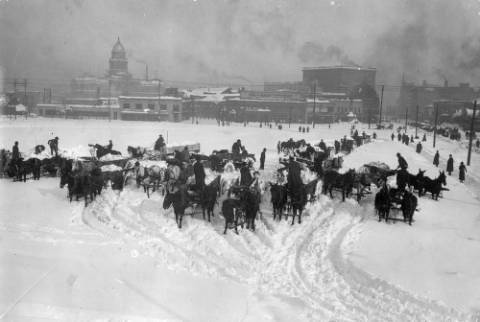 Men in Civic Center unload snow laden horse-drawn wagons after the snowstorm of 1913 in Denver, Colorado. Shows pedestrians on the sidewalk, the Arapahoe County Courthouse building and the Majestic Hotel are in the distance. A sign reads, "Oil and Gas (?) 500,000 Population for Denver, the Colorado Producers Oil Company."