DENVER — The management group of a south Denver subsidized apartment building is asking its residents to consider lowering their temperature this weekend in order to help the building's owner save some money.
Archdiocesan Housing, an affiliate of Catholic Charities, posted the following letter to residents' doors at Golden Spike Apartments on Friday:
Dear Residents:

We hope you are staying warm during these frigid temperatures.

The country is experiencing frozen oil wells which are increasing the cost of gas at our properties.

Our owner is requesting that you consider lowering your thermostat by 4 degrees to help us mitigate these increased costs over the next 4 days.

We really appreciate your consideration and residency!

Thank you,

The Housing Management Services Team on Behalf of Archdiocesan Housing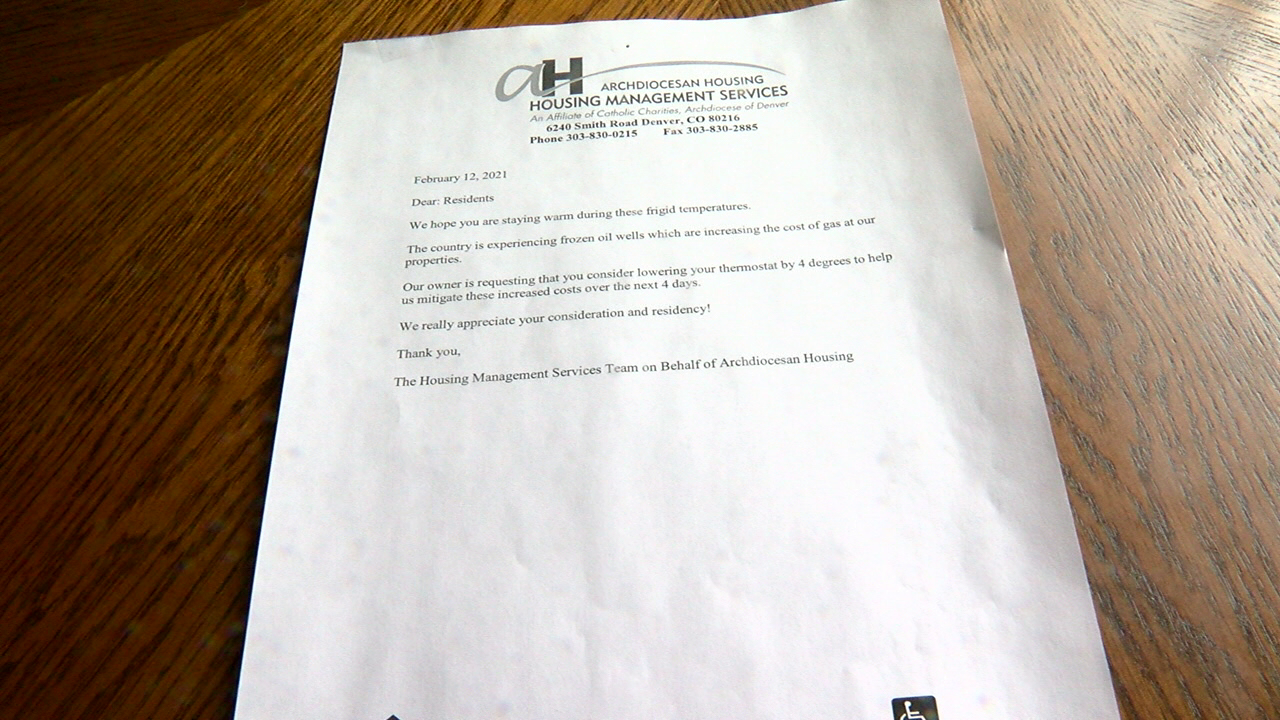 To say resident Janet McKenzie is upset is an understatement. She contacted Denver7 to express her concern.
"I volunteered to do this interview so that other people will know that somebody is bringing this to somebody's attention," she said.
McKenzie doesn't mind helping out, but she said she doesn't even have any heat to turn down.
"I thought, 'How can we lower the heat when we don't have heat?'" she said. "Very much an insult to injury."
She claims she hasn't had working heat in her apartment for some time now despite attempts to get the problem fixed, so she's had to purchase her own space heaters to keep warm.
"We don't have heat, but we all turn on our space heaters and that's OK. We've had to do that for years and years," McKenzie said.
She wants Archdiocesan Housing to fix the heat in the building and to, possibly, not ask residents to consider lowering their temperature on one of the coldest weekends in a few years.
Denver7 reached out to Archdiocesan Housing, Catholic Charities, and the Archdiocese of Denver for comment on this story, but no one had returned any calls or emails as of Saturday afternoon.
Editor's note: Denver7 seeks out audience tips and feedback to help people in need, resolve problems and hold the powerful accountable. If you know of a community need our call center could address, or have a story idea for our investigative team to pursue, please email us at contact7@thedenverchannel.com or call (720) 462-7777. Find more Contact Denver7 stories here.